KITCHENS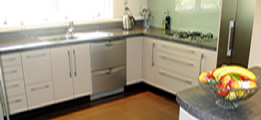 Total custom design to your requirements. Bench tops in granite, stainless steel, solid hardwood or HPL laminate. Hardware can be sourced from a wide range of quality suppliers. Painted kitchens or Melamine laminate, all needs can be catered for.
RESTORATION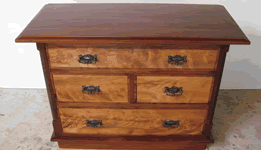 Breathe new life into your loved furniture. Restoring furniture using traditional methods and techniques, glues and shellac finishes, is one of my specialties.
Or Re-purposing an old favorite to fit a modern lifestyle.
FURNITURE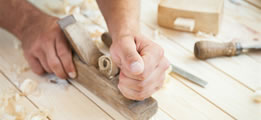 Solid timber or painted, be-spoke furniture, reproduction or client design. Finished in modern two pack lacquers or traditional shellacs and oils. A wide range of decorative veneers including burr walnut, elm and maple to fiddle back satinwood and sycamore. Bespoke furniture to last generations.
About us
Cameron has run his business from home since 2003, with the help of his wife Sharyn. Cameron's fascination with Timber dates back to his childhood, growing up on a large Northland farm in a Kauri home surrounded with colonial NZ furniture. As a trained Cabinetmaker, Cameron has developed a wide range of skills both modern and traditional to meet the highest standards possible. Cameron will listen to your requirements to ensure the best out come.
What we do
Custom furniture, modern & period reproduction
Furniture restoration
Kitchens, Bathrooms, Vanities
Gift boxes
Wooden doors, Stairs
Motor homes, Horse trucks
Shop & commercial fittings
Custom timber mouldings & general joinery
Testimonials
I have no hesitation in recommending Cameron Philips Cabinetmaker, who has completed four projects for me. The first is a modest kitchen in a studio unit. The second project is a large kitchen and laundry with some complicated details, Most of the cupboards extend floor to ceiling, and are fitted with internal drawers, requiring a high level of precision. Cameron designed everything to our specification...